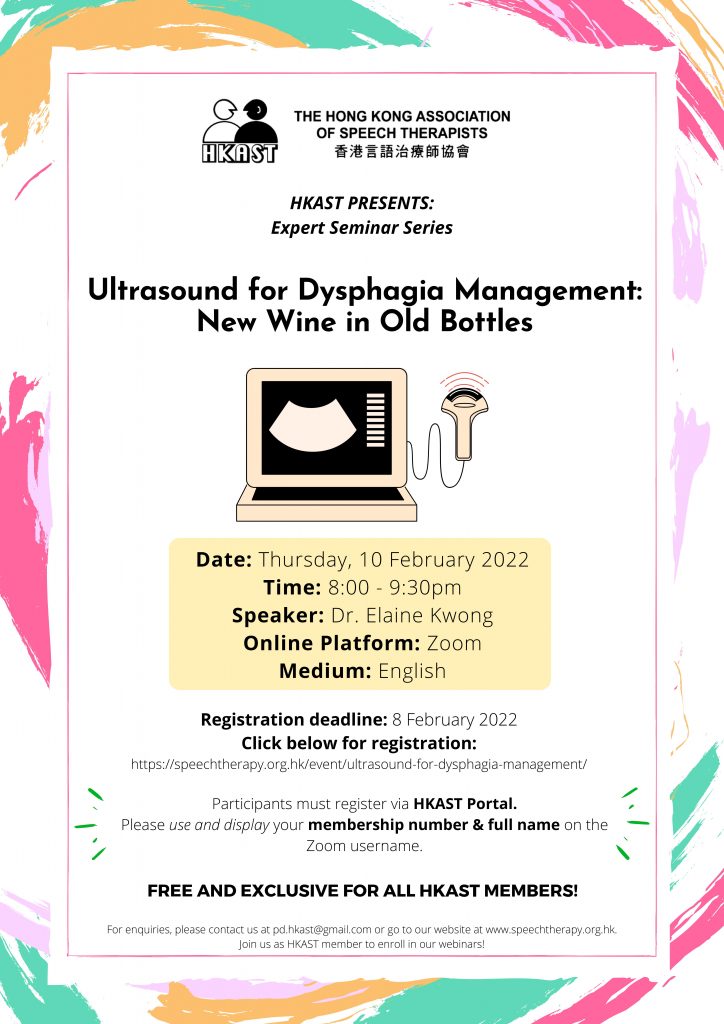 Traditionally, imaging of swallowing has been done using videofluoroscopy and flexible endoscopy. Despite being well-established and validated, these techniques are not without limitations. Videofloroscopic swallowing study is radioactively invasive while flexible endoscopic evaluation of swallowing is physically invasive. Both of them are not readily accessible in different clinical settings. Recently, the application of a not-so-novel imaging technique, ultrasonography, to swallowing examination is gaining attention internationally. In this webinar, participants will be introduced to the principals of ultrasound imaging and its potential in, not only swallowing assessment, but also intervention. Scientific evidence will also be discussed to facilitate speech therapists' evaluation on when and how the ultrasound imaging technique may be adopted in their clinical practices.
About the speaker:
Dr Elaine Kwong is an Assistant Professor in the Department of Chinese and Bilingual Studies, The Hong Kong Polytechnic University. She is a speech therapist who specializes in managing voice disorders. In the recent years, she had extended her research interests to dysphagia. She is particularly interested in application of ultrasound imaging to the examination and rehabilitation of dysphagia, and standardization of diet modification framework for dysphagia.
Webinar Outline:
7:45 – 8:00pm: Registration
8:00 – 9:15pm: Presentation
9:15 – 9:30pm: Q&A session
Webinar Fee & Registeration:
Details:
Online Platform: Zoom (https://zoom.us/download). Available for download on PC, iPad, iOS/Android smartphones
Electronic certificate of attendance will be available on HKAST portal
Capacity: 500
Please register your own Zoom account prior to the webinar
Confirmed participants will receive an invitation link to join the webinar via Zoom
Participants MUST use and display their membership number and full name on the Zoom username for webinar registration and certificate printing purpose
HKIST CPD-ST points: 1.5 points
Reminders:
The webinar will be conducted in English
The host is not responsible for any technical issues or failure in accessing the webinar link
No audio or video recording is allowed in this event
Technical Requirement:
High speed internet connection (WiFi recommended)
Built-in audio and camera (optional)
"
Register
for a free account to purchase as a non-member"