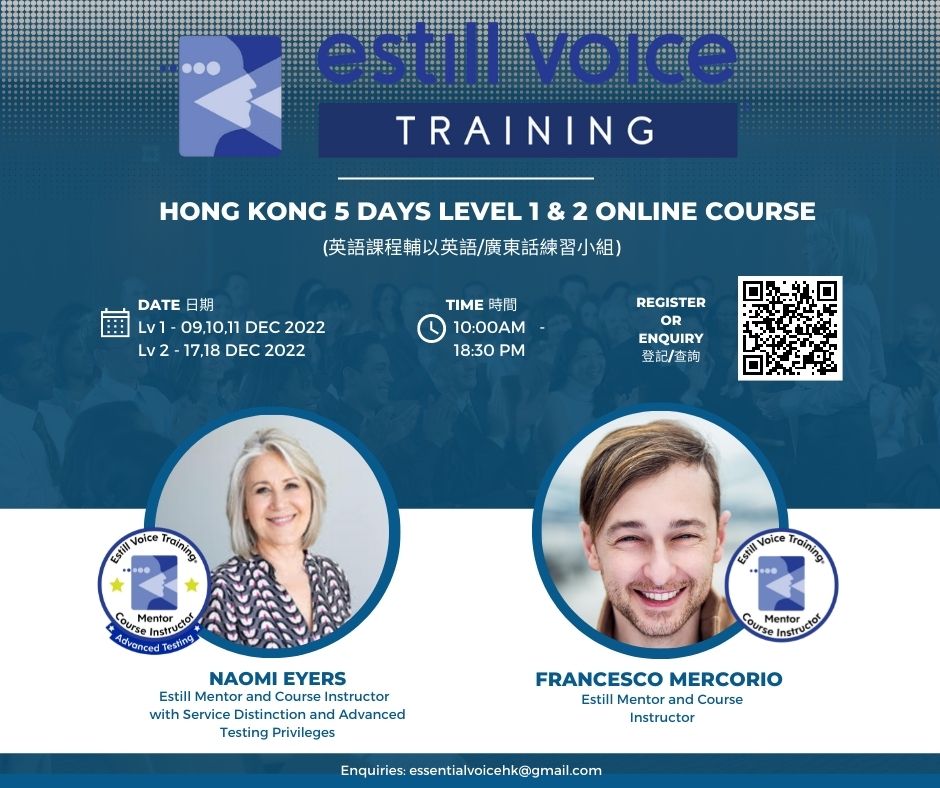 Date: 9-11 December 2022 (Fri-Sun), 17-18 December 2022 (Sat & Sun)
Time: 10:00-18:30Cost: 5,300HKD (5000HKD with early bird discount; early bird deadline: 25 November 2022)
Language: English
Instructors: Francesco Mecorio, Naomi Eyers, Winnie Tang, Angela Kit-Ching Lee
Contact: Francesco  Mecorio | 
essentialvoicehk@gmail.com
 |
Course Location: ONLINE, Hong KongThis course is a 5 days course over 2 weekends. On 9th, 10th, 11th (Fri-Sun), 17th & 18th (Sat & Sun) December 2022.Course materials and lectures will be in English. Chinese (Cantonese/Mandarin) assistance is available. Cantonese Practice Groups available.The Level 1 and 2 Course is for anyone who would like to improve their singing or speaking voice—singers, actors, vocal coaches, drama instructors, speech-language pathologists and other vocal health professionals. Level 1: Figures for Voice Control™ teaches the Craft of speaking and singing and employs exercises that will give you new vocal options for all styles. Level 2: Figure Combinations for Six Voice Qualities™ combines Figure options from Level 1 to produce six voice qualities–Speech, Falsetto, Sob, Twang, Opera, and Belting. This course offers a clear understanding of the voice's limitless possibilities, along with how to keep it vibrant and healthy. This live course explores each Estill Figure (vocal structure) and Estill Voice Quality ("recipe") and includes:
Level 1 Workbook™, Make & Move Larynx™, Level 2 Workbook™, supporting handouts
Introduction to Level 1: 13 Figures for Voice Control™
Introduction to Level 2: Figure Combinations for Six Voice Qualities™
Vocal exercises for range, strength, clarity, and stamina
Large and small group learning and discussions
Masterclass/open coaching sessions for repertoire or case studies
A Level 1 & 2 Certificate of Attendance will be issued upon completion of this Level 1 & 2 Course. This certificate is one of the requirements for Trainer Certification in Estill Voice Training®.
Registration Link:
"
Register
for a free account to purchase as a non-member"